About PaperAnimals.io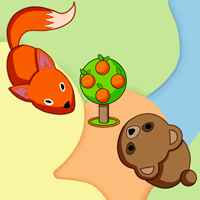 Description:
PaperAnimals.io is a charming and addictive online multiplayer game where you get to play as an adorable paper animal. Dive into this colorful world and compete against players from all over the globe in a fun and thrilling battle for survival. The game features simple controls and vibrant graphics, making it enjoyable for players of all ages.
Customize Your Paper Animal
Choose from a wide range of paper animals:
Create your unique and personalized avatar.
Select different patterns and colors for your animal.
Unlock special accessories to enhance your appearance.
Become the King of the Jungle
Engage in intense battles:
Fight against other players in real-time matches.
Use your agility and strategy to outsmart your opponents.
Collect power-ups and gain an edge over your rivals.
Unique Gameplay Modes
Discover various game modes:
Survival Mode: Fight to stay alive and be the last animal standing.
Team Mode: Join forces with other players and work together to defeat rival teams.
Capture the Flag: Compete to capture and hold the flag for your team.
Unlock Achievements and Climb the Leaderboards
Challenge yourself and aim for the top:
Earn achievements by accomplishing specific goals.
Climb the global leaderboards and establish your reputation.
Show off your skills and become the ultimate paper animal champion.
Join the lively and thrilling world of PaperAnimals.io now and embark on an exciting journey with your paper animal companions!
In PaperAnimals io, you typically control your character or object using a blend of keyboard inputs (such as WASD for movement) and mouse controls (for aiming and performing actions). You can also discover additional control options and settings within the in-game menu.
To begin playing PaperAnimals io online, just navigate to the game.