About Deadshot.io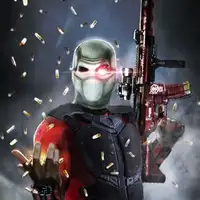 Description:
Genre: First-person shooter
Step into the intense world of Deadshot.io, a thrilling and action-packed multiplayer first-person shooter game. Engage in fast-paced battles against players from around the globe as you compete to become the ultimate deadshot.
Gameplay
Deadshot.io offers a variety of game modes to keep you hooked. Jump into the classic team deathmatch where you must work together with your teammates to eliminate the opposing team and achieve victory. Alternatively, test your skills in the exhilarating solo deathmatch mode, where it's every player for themselves.
Earn points and rewards by taking down enemies with precision and accuracy. With a vast array of weapons to choose from, each with its own unique characteristics, you can customize your loadout to suit your playstyle. Master different weapons such as sniper rifles, shotguns, assault rifles, and more.
Features
Customizable Avatars: Create your own unique character and stand out from the crowd with a range of customization options.
Powerful Weapons: Choose from a wide selection of deadly weapons, each with their own strengths and weaknesses.
Online Multiplayer: Battle it out with players from all over the world in exciting online matches.
Various Game Modes: Experience different modes including team deathmatch and solo deathmatch.
Leaderboards and Achievements: Compete against others and climb the global leaderboards to show off your skills.
Immerse yourself in the adrenaline-pumping gameplay of Deadshot.io and prove your worth as the ultimate marksman. Are you ready to take aim and eliminate your competition? Join the battle now!
In Deadshot io, you typically control your character or object using a blend of keyboard inputs (such as WASD for movement) and mouse controls (for aiming and performing actions). You can also discover additional control options and settings within the in-game menu.
To begin playing Deadshot io online, just navigate to the game.